---
here is a post on Ilaw ng Sanlibutan (FB) where it touches the many so called construction projects of the church administration through the leadership of EVM in a span of only 6 years. And the final touche' "Ito ba ang korapsyon? [Is this corruption?]"
"#Basahin nyo ito para alam nyo kung ano ang naipatayong gusali sa nasabing taon. Sa ilalim ng Liderato ng Kapatid na EDUARDO V. MANALO. Tiyak mapapanganga kayo sa dami.
2009 – 2015
1. ★Philippine Arena ( 9 Billion Pesos )
★Philippine Sports Stadium
★Philippine Sports Center
2. Iglesia Ni Cristo – School for Ministers
(1 Billion Pesos)
3. Honorata De Guzman Building
(Legal Department at Finance Department)
4. Pilar Manalo Danao Multimedia Center
(Music Department)
5. NEU Professional Building
(College of Law at Graduate School)
6. Mga gusaling sambahang naipatayo:
★2011 – 119 (107 sa pinas at 12 sa ibang bansa)
★2012 – 139 (123 sa pinas at 16 sa ibang bansa)
★2013 – 154 (138 sa pinas at 16 sa ibang bansa)
★2014 – 168 (81 kapilya, 79 Barangay Chapels at 8 sa ibang bansa)
2015 – 293 mula Enero hanggang Hulyo lamang.
Ang kabuuang naitayo mula 2011 hanggang 2015 ay 873.
Gusaling naipa-ayos, nabili at naipatayo:
1. 1000 Housing units para sa Yolanda Victims
2. INC Engineering and Construction Building
3. INC Minister's Apartelle
4. Green Condo
5. Central Condo
6. NET25 Building
7. INC – SFM extension (Rizal, Pampanga at Bulacan)
8. INC – SFM Building (California, London at Rome)
9. New Era General Hospital New Building
10. SFM Dormitory
11. 1 Housing Condo – Central
12. Iba pang mga gusali at pabahay sa iba't ibang distrito.
Under – Construction
1. EVM Convention Center
2. INC Museum
Naitatag: INCTV, INC RADIO, INC RADIO sa America at Pipe Organ sa Templo Central.
Ito ba ang may #KURAPSYON? Isipin mo, sa anim na taon ganyan kadami ang naipatayo at saby sabay ipinatayo. WOW ! Kaya Kaawa awang mga nilalang, nilangaw na sa inggit kaya bato ng bato. Haha
Source: iglesianicristo.blogspot.com
– © Bro. Gab Babasa"
No, that is not corruption, Those are construction projects built with the funds of the church members who religiously saved their hard earned money and offered it to the Lord for His glorification. Offerings that came from members who braved the storm to sell their fish and vegetables  so that come Sunday they could offer a part to the Lord. It is an offering from our many workers who still do not receive the minimum wage from their employers. The side walk vendors who sell cigarettes and candies, and the countless brethren who have not yet seen the insides of McDonalds or Jollibee from far-flung provinces.  Those projects are the result of the offerings of our brothers and sisters who withstood the strains of time for a century.
If EVM wishes to take credit for these projects, maybe it's high time he be realistic about it all. How much offerings were he able to raise from the start of his administration up to 2015? With this fund, if there is still any, I doubt if he could still maintain the daily operations of a small company much more the Church. Give credit where credit is due. The members, the body of Christ, the Church. He is merely the caretaker. All these so called projects were funded by the two previous administrations and not by his.  His only participation was to spearhead and spend it. Though not wisely if I may say so.
Now, what is corruption? Wikipedia says it very accurately.
"Corruption is a form of dishonest or unethical conduct by a person entrusted with a position of authority, often to acquire personal benefit. Corruption may include many activities including bribery and embezzlement, though it may also involve practices that are legal in many countries. Government, or 'political', corruption occurs when an office-holder or other governmental employee acts in an official capacity for personal gain."  [https://en.wikipedia.org/wiki/Corruption]
"So what is it that makes the construction industry so corrupt? Niell Stansbury of the Global Infrastructure Anti-Corruption Centre has identified 13 features that make construction particularly prone to corruption. They include:
1. Uniqueness: No two construction projects are the same making comparisons difficult and providing opportunities to inflate costs and conceal bribes.
2. Complex transaction chains: The delivery of infrastructure involves many professional disciplines and tradespeople and numerous contractual relationships that make control measures difficult to implement.
3. Work is concealed: Materials and workmanship are often hidden, e.g. steel reinforcing is cast in concrete, masonry is covered with plaster and cables and pipes enclosed in service ducts.
4. Official bureaucracy: Numerous approvals are required from government in the form of licenses and permits at various stages of the delivery cycle, each one providing an opportunity for bribery.
5. The scale of infrastructure investments: Investments in economic infrastructure such as dams, airports and railways can cost tens of billions of dollars making it easier to conceal bribes and inflate claims.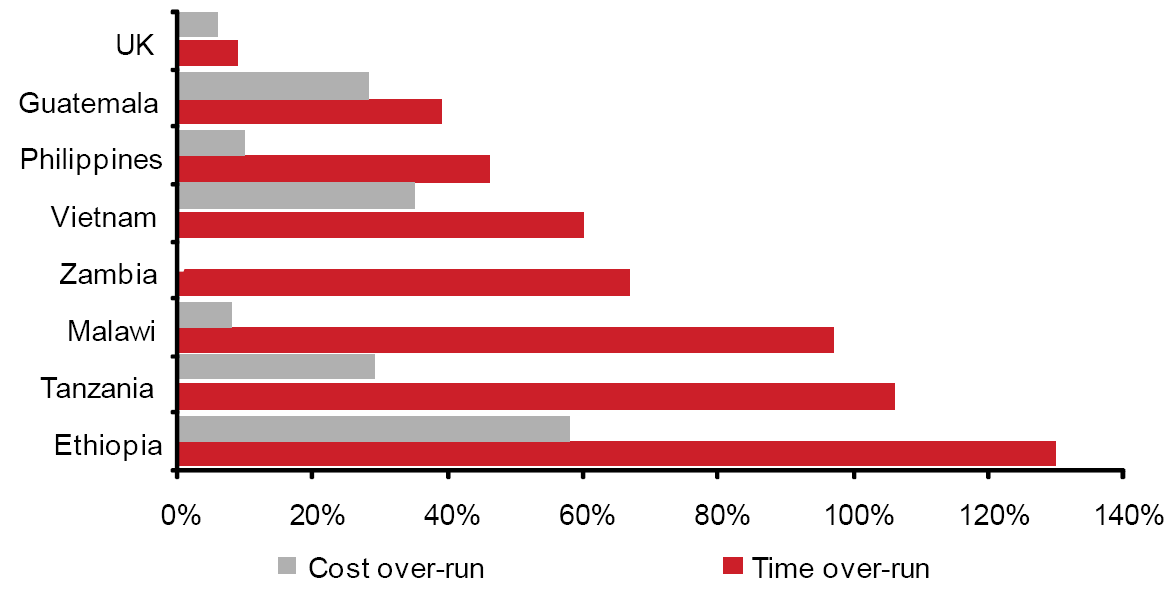 [https://www.weforum.org/agenda/2016/02/why-is-the-construction-industry-so-corrupt-and-what-can-we-do-about-it/]
You'll notice two terms which are prominent in the chart – cost and time over-runs. What do these terms mean?
"A cost overrun occurs when the expenses required to complete a project, or one aspect of a project, exceed the amount budgeted. This can happen for any number of reasons. One common cost overrun occurs when the cost of materials rises significantly between the time you finalize your budget and actually start making purchases.
Time overruns occur when projects or tasks within a project is not completed by the time the project plan specifies. This can occur when materials to complete a project are back ordered and work cannot be completed until the materials arrive. Sometimes, labor shortages can cause work to be completed slower than anticipated."
[https://answers.yahoo.com/question/index?qid=20120131224355AAlBROG]
So in short corruption in essence cannot be compared by merely showing some finished projects no matter how many they are. The only gauge is to check the actual amount disbursed from those declared and against prevailing market conditions at the time.
In concluding, would the King be amenable to an acid test to ascertain whether there was corruption in the construction of all these projects? An external neutral audit by a competent accounting firm? Then you can declare in the pulpit that there was no corruption. Actually it would be a plus for the Church because you would then be able to pinpoint the guilty party and cleanse the organization from parasites who are eating dry our treasury, if there are any. The problem is we have only one person who functions as Treasurer and Auditor. Wonder how we can go around that predicament …
---
By the way there's a video going around (credits to Edwin Mora) about one pastor "apostle" David E. Taylor of  Joshua Media Ministries International who's in hot water for allegations on spending church funds for personal benefit –
You can learn more about the story here.
---
(Have you tried Pizza Hut's PHP159.00 family pizza? They come in three flavors. Hawaiian is our favorite. Ms Goof and Katy can't seem to have enough of it. I take a slice and bite it so slowly in front of them. Goof just jumps up and down but with Katy it's a strain. She climbs up your legs and torso with those Wolverine claws! Afterwards, this happens while I clean up their mess. Well, that's life 🙂 )