---
y Dear Co-Officers in the Church,
I address this letter not to the ministers of the Church but to all  my co-Lay Officers. Nothing more need be said about the current crop of workers and ministers running the Church. Social media has plenty of it both for and against them. But you as a current performing officer will definitely fall under only two classifications. An open supporter or a silent protester. Either way I have high respect for you both. We all know and understand that being an Officer of the Church is no easy task. If you are working or studying, you have to manage your hours to fill in the function you took an oath to perform. There is no term of office until that is you yourself decide that it is enough or you aspire for a higher position. There is no monetary reward, salary, or allowance for the efforts you contribute for the good of the Church. The reward  which we are being taught to receive are the blessings that no amount of worldly riches can compare and the doctrine that not all members were called to serve the Church but only a select few and that select few we are taught, are us.
But after holding several offices in the Church for so long a time I can say with all honesty that it is an ungrateful job. Why? Because I have personally witnessed co-officers who loved their functions beyond measure waking up so early in the morning, going home so late at night, throwing caution to the wind just to be able to satisfy the needs of the administration in terms of mga ulat, pagdadalaw, pag-aakay, pagtulong sa pangangailangan ng Iglesia and so forth, all suddenly vanish in the blink of an eye just because an envious co-officer created a scenario of distrust. Or families who could have had a better life if only their deacon fathers had accepted the offer of accepting a better job abroad on the excuse that he would be betraying his oath of office if he accepted that offer. Or on a more sad note, in our locale we have a head choir who works as a tricycle driver with his wife who used to head the locale Ilaw ng Kaligtasan secretariat until a problem with one of their ulats caused her removal as Ilaw head. Now she is back as a regular choir member. Both of them has lived in a small shack near the chapel for so long under very pitiful circumstances. They have grown old and weak and so has their health. Both has refused to leave their office despite advise from their children that it is ample time that they gave time to themselves. It is their holy pact with God they say to continue until their last breath to serve Him. Admit it, how many of us has not lived through such a scenario in the performance of our functions on the belief that this is what God wants and it would be a sin against him if we would see it otherwise.
The select few doctrine is a myth. The Church from the very start has always been offering church functions to active members to be one of the select few.  From the PNK, Binhi, Kadiwa, Buklod, Kalihiman, Treasury, SCAN, Deacon/nesses, have I missed any? The administration needs the officers. Without us the Church would not survive? Would it be enough to maintain its many needs without the Lay Officers? Could the ministers and workers do it on their own? To bring the Church to worldwide recognition? I doubt it. We are the backbone of the Church. It would never stand on its own. Who would initiate the effort to bring the many visitors to our pamamahayags? Who would look after each and every member of the Church, listen to their woes, and heartaches? Who would anoint oil to the sickly and understand their tears during the most depressing time of their lives? Mga katiwala, diakono't diakonesa, mga maytungkulin sa lokal. Ironically, they are also the  most lambasted sector of officers and the most pressured when it comes to satisfying the many needs addressed to a locale by the Church administration.
Let's cite an example. Ang limang pangulong diakono na naghahalili sa pagtupad sa tribuna, sila ang may pananagutan magasikaso sa mga mangangasiwang ministro at mga kasama nito sa oras ng pagsamba.  In short there is an unwritten agreement that they provide breakfast, lunch, or dinner for these ministers and company not to mention coffee and biscuits before officiating. And the the five head deacons are also responsible for covering the shortage of funds generated during a particular event. For example, in the last Worldwide Walk, all locales were furnished with booklets of official receipts for the T-Shirts to be worn during the event. Many locales were not able to dispose of all these tickets. Our locale was one of them. The five head deacons would shoulder the difference. The unsold tickets could not be returned to the head office without consequences.
Ministers and workers have their family week every year where they can have time for themselves together with their families. Some are even allowed to leave the country on extended leave. The most common practice however is that these ministers together with their families also visit their previous locales. Not all of the brethren there but close brethren who are known to have a willing pocket and a willing heart or more appropriately affluent brethren na may katangiang kaya ng bulsa kaya rin ng puso.  Marami kasi jan kaya ng bulsa pero hindi kaya ng puso. Meron naman kaya ng puso pero hindi kaya ng bulsa. That is why you hear from co brethren that so and so a minister or worker visited a particular brethren on family week but missed visiting others.  So when this happens to you, you tend to ask yourself why in spite of the fact that during the minister's term at the locale you had accompanied him almost daily to all of his doktrina and pagdadalaw.  Siguro isa ka sa 'kaya ng puso pero hindi kaya ng bulsa'. I am reminded of a quote from Ka Teofilo Ramos who once advised a fresh minister assigned to a locale, "Kelangan alamin mo ang lebel ng pagka-uto ng isang kapatid." My piece of advice to all the ministers and workers who choose to visit their mother locales during family week – don't just visit the affluent ones, go also to the homes of the binhi, kadiwa, diakono't diakonesa and say hello. All those who helped you attain the stature you hold today. I assure you it will make your day and theirs too. You will be greeted by the most generous smiles this side of Christianity.
The lay officers and their families love the ministers and workers. They know the sacrifices that go with it – leaving behind their own families on the faith that it is a call of God and Church. During the early years many of these would-be ministers most coming from far away provinces were even adopted by families in locales where they would be assigned.  My wife's family is one of them. It has produced so many ministers during the late sixties and early seventies. They shouldered the transportation costs from home to class, food, and even for their haircuts. That was the era of FYM and the start of Ka Erdy. This love continues to this day. But unfortunately some ministers take advantage of this frailty if we can call it that. Abusado ang iba. Unang inaalam sa lokal kung sino ang mga kapatid na may kaya at kinakaibigan para maging malapit. Nagiging sandalan so to speak.
So my dear co-Lay Officers, it is not a sin to decline the request of a minister if the request would jeopardize your daily livelihood or your personal itinerary. If the minister or worker asks for your support by bringing him on your tricycle to his doctrines, there is nothing wrong if you comply but just see to it that your family is not compromised by it. Remember you have other mouths to feed beside your own and if those other mouths would become hungry because of it, that is a sin against God. Ministers are provided with allowances or tulong precisely for that purpose whether you accompany him or not. When you or your family suffer from an untoward incident such as sickness, no one else is obliged to assist you financially, not even the church but  yourself and your family to overcome the suffering. Ministers and their families are supported by the Church administration from housing, hospitalization, and even regular pension for the wives of the ministers who had passed away. This is the act of love shown by our administrations to our ministers and their families. But like I said, naabuso to the extent of extravagance and exclusivity. Raffling out cars, laptops, and so forth only for ministers and their families, housing at Ciudad de Victoria's exclusive use only for District ministers and families during events at the Arena, exclusive seating spaces, and even exclusive dining area for them.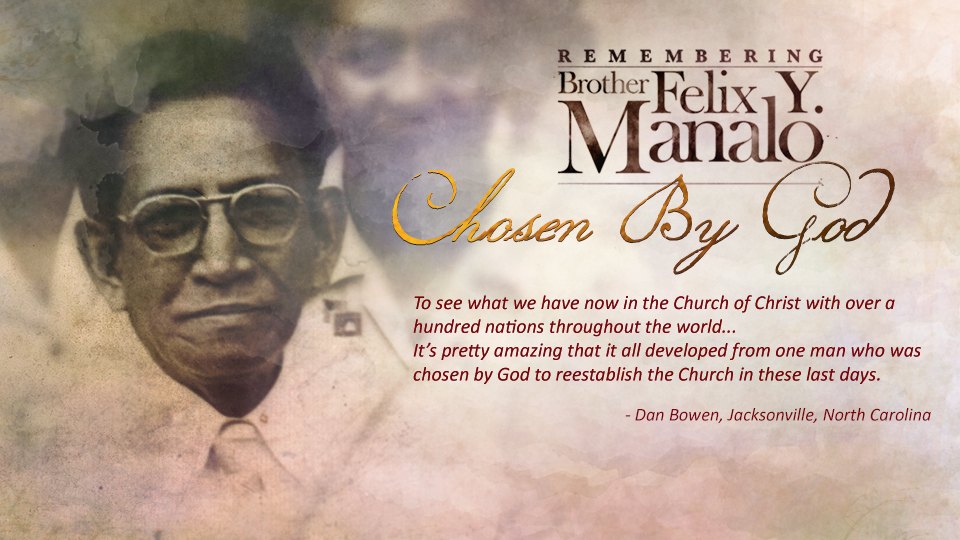 We have come a long way indeed. To think that there was a time when the Sugo would on his birthday set a particular day for Maytungkulin and brethren alone to come to F.Manalo to visit and mingle with him. Having talks, conversations – he would always start the talks with "Saan  lokal kayo kapatid?",  :"Ano tungkulin niyo?""Kamusta po mga kapatid doon?" And I would like to stress walang OA na security o SCAN noon, mga metal detectors, at iba pa. Dios lang security niya. I guess we all miss those days. Days when we could talk about everything without fear from the Church. When laughs were more common than whispers.
In ending a rather long narrative, let us all love the Church, not for salvation alone but because Christ also loved it and gave his life for it. Let us love our brethren, all of them for they are the Church. Let us learn not to choose for that is not our option but God's. And let us not be an accomplice to all those who would willingly or unwillingly wish to taint which is His. Let us be very careful with our offerings. Otherwise it would never be for the glory of God but of men.
Your brother in Christ,
William Smith
Almost forgot, this is dedicated to our dearest new "Holy Trinity" –